10th June 2020
The Ultimate Guide to Modern Hamptons Design
Modern Hamptons style
The Hamptons has been a popular design style for many years now, taking inspiration from the light, bright and breezy interiors and exteriors of holiday homes on the East End of New York's Long Island. A popular holiday destination for the wealthy residents of New York City, the quintessential Hamptons style is now being revamped to take less from the all-white coastal design feel, and move towards a more refined Modern Hamptons style.
Whether you want to create a Modern Hamptons kitchen, a Modern Hamptons bedroom, or you'd just love the look of the Modern Hamptons style and would like to include it in your home; let's take a look at how to embrace this gorgeous aesthetic that's extremely well-suited to the Australian lifestyle.
Key features of a Modern Hamptons style

Bold and Bright Colours
Whereas the more traditional Hamptons style focuses on white, white and MORE white, Modern Hamptons changes the game and encourages the inclusion of brighter colours; this style is not afraid to be bold!
The colours you choose are up to you, whether you're looking for a darker and moody vibe, or a calm and neutral interior. The Modern Hamptons style is incorporated through the use of natural and authentic textures, rather than through the use of a dreamy, washed-out all-white colour palette.
Wall Panelling Your Entire Wall
Don't just think mid-wall panelling, try floor to ceiling to modernise the Hamptons look! Wall panelling your entire wall is a fantastic way to bring a well-rounded Modern Hamptons style to your home, as this look complements other common features of the style, such as wainscoting or white painted wooden kitchen joinery.
The vertical lines of wall panelling help to elongate walls and make them appear larger, giving the appearance of added height. If your home is open-plan, having an entirely-panelled wall is a great way to bring areas together, visually connecting spaces and creating flow. For example, you can create a visual path from a hallway into a kitchen, dining or living space.
The New Modern Hamptons Style Uses VJ Panelling
'VJ' panelling stands for vertical joint, and is also known as tongue and groove panelling. VJ panelling is usually painted white (which aligns with a Modern Hamptons style), however can also be accented in neutral beige or grey shades for an interesting look. By using vertical join VJ boards or VJ sheets it is a relatively cost-effective way to bring architectural depth and intrigue to a home without adding expensive (and complex) structures or knocking down walls. You can also apply VJ Boards to the ceiling for added interest.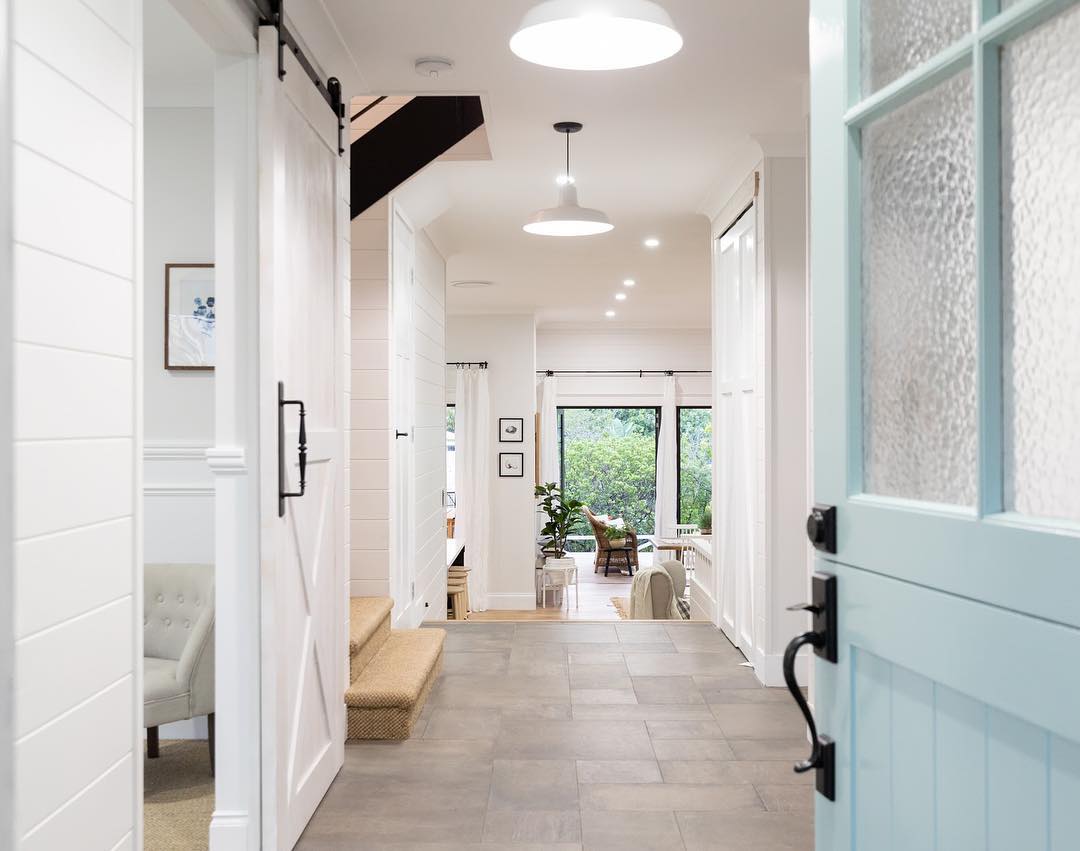 Bringing The Outside In
For a Modern Hamptons style, it's all about embracing nature and bringing the outside into your home. Try to include as many expansive glass windows as possible if you're building your home from scratch, and edge the windows in semi-gloss painted timbers, sleek aluminium frames and natural plantation shutters. Oversize French doors, segments of louvered glass and bay windows will allow outdoor scenes and glorious sunshine to stream into your Modern Hamptons-style residence.
The Modern Hamptons style welcomes inspiration from the outside environment, so if you are nowhere near the ocean, bring in elements of the countryside that surrounds you!
Modern Hamptons decorating

Embrace Texture
Modern Hamptons decorating is all about texture. As we mentioned before, a traditional Hamptons style was fairly rigid in colour, usually consisting of extremely whitewashed interiors and rugged furniture. Modern Hamptons styling embraces a wider range of colours, but still sticks to gloriously natural and authentic materials.
Whereas the traditional Hamptons style calls for nautical-themed furniture, art with ocean motifs and pieces of driftwood or coral, Modern Hamptons might call for a woven grass or dried palm hanging in your living room, or a divinely abstract print in your kitchen to complement your colour scheme. Natural materials like wood, stone, linen and marble all work well, and can be included in both the exterior and interior of your home through furniture, surfaces and finishes.
Other ways to include Modern Hamptons style through texture include:
Matte black appliances
Brushed nickel or copper fixtures
Polished concrete floors
Indoor greenery in every room
Pared-down Colour
For colour guidance, it's always best to stick to neutral where possible for the Modern Hamptons style, including whites (but not enough to saturate a space), beiges, greys, yellows or earthy and khaki greens.
You could pair warmer neutral colours with refined and sophisticated navy blues, steering clear of the baby blues and mint greens of the traditional Hamptons style. Monochrome interior schemes are not uncommen in a Modern Hamptons home. Cream with black accents is another Modern Hamptons style colour scheme, or black with accents of bronze and white paired with natural materials for warmth (such as marble counter tops and black timber floors).
Modern Hamptons bedrooms
It's All About Comfort
For bedrooms that embrace the Modern Hamptons vibe, it's all about luxurious comfort. Use natural materials like organic cotton linen for your sheets and furniture coverings. Choose chic, soft-cushioned seating like ottomans, couches and single seat chairs placed romantically under bay windows for hours spent lost in books. Always choose quality over quantity, however there's nothing wrong with a barrage of gorgeously covered scatter cushions atop a plush bed.
Choosing the Right Lighting
Choose pendant lights in traditional shapes for a Modern Hamptons style, and ensure there are a variety of light sources in every room for coziness – whether it's hanging ceiling lights, standing lamps or table lamps.
Industrial-themed lamps work well within a Modern Hamptons aesthetic, including lamps made of brushed metals like steel or copper. Avoid harsh, direct lighting by investing in wall lights and sconces, as lighting that is dimmable/personalisable does better for intimate evening settings and wind-down time.
Modern Hamptons kitchen
A Modern Hamptons kitchen is where you can bring in the light, fresh whiteness of the traditional Hamptons style (but with a modern twist, of course). Choose all-white finish for kitchen cabinetry, or go bold and choose earthy green, combined with open shelving or glass-paned doors that bring the natural outside world into your kitchen's view.
A kitchen island is a must for both your aesthetic and cooking endeavours, as well as using marble, light-coloured stone or crisp white laminates for benches and stools. If you don't dare to colour your kitchen too much, try a pop of colour on your island bench only. You can bring warmth into the space and negate the starkness of all white with copper or rose gold metal finishing with clean, sleek lines to modernise your kitchen and give the space that sense of homeliness.
For a Modern Hamptons kitchen's lighting, pendants are a must, as well as beautifully shiny chrome eyecatchers or lantern-style lights in metal and clear glass. Try these in black iron instead of the traditional chrome for a modern touch.
Choose the Right Handles
It's important to choose the right handle in your kitchen, as it will dictate whether the kitchen takes on a more traditional Hamptons look or a Modern Hamptons kitchen style. Choose sleek, modern handles or more detailed, ornate ones (such as claw-shaped) to bring a sense of balance and clean lines to the space. Clean lines are the benchmark for a Modern Hamptons home.
Get the Right Splashback
For your Modern Hamptons kitchen, choose splashbacks in neutral coloured tiles, glass, or natural stone. Avoid patterned tiles, as they are too 'busy' for this style and will take away from the natural detail of your space. Stick to white, subtle pastel, or marble tiles in a herringbone setting.
Modern Hamptons Skirting Boards
Modern Hamptons Wall Panelling
.