4th March 2021
Hallway arch mouldings
Hallway Arches & Moulding Ideas
The debate between square set or arches for hallways rages on in design circles and with renovators. Even the students at Three Birds Renovation Reno School raised this exact question recently on their Facebook group and the hundreds of responses from fellow renovators showed they were favouring the arch. Hallway arches were the popular vote. As they are used in everything from Victorian, Georgian, Federation, Art Nouveau, Coastal and Mediterranean, we can see why to add style and grandeur to a hallway. Some people felt the square set is more timeless, but we challenge that when we look to the popularity of classic architectural designs that never go out of fashion.
When it is usually used & why
Curves are hot right now; they are being used on everything from arch hallways to bathroom mirrors, curved furniture and architectural design treatments and finishes throughout the home. Architrave arches are purely aesthetic; they serve no load-bearing function to the wall and is not a structural element. Like all timber mouldings, they are a decorative design feature to create uniformity and tie together a style throughout the home. Like mascara to a beautiful eye, hallways arch mouldings make the archway pop with stunning effect to draw your eye and lead you down the hallway.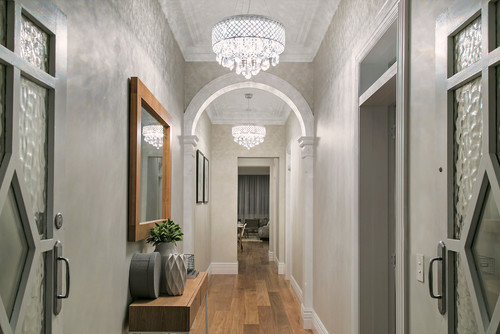 What to take into account when choosing your moulding?
The design of moulding to use should be consistent with the architectural style and decorate the approach you are taking for the rest of the home. Your chosen Skirting and Architraves profile shape can be used for your arch architraves. Unlike a straight moulding used for a square set, an arch moulding is created from our arch's custom template to ensure it is an exact fit. We do not bend the timber; the timber is moulded on precision machinery to your exact shape.
Did you know that we can also custom match existing Architrave profiles and mouldings? A custom match is ideal for a period home when the standard range of mouldings won't match. The ability to match a custom profile design provides a consistent appearance for a heritage renovation. New home builds have the choice of hundreds of design options our standard range of mouldings, which can also be produced into a custom arch architrave.
What period aesthetic you would like to create?
Hallway Arches are used in many popular architectural styles such as;
Georgian
Colonial
Art deco
Victorian
Federation
Modern
Where and how they are installed?
The arch moulding is made to measure. Depending on the arch size and curve radius will determine how many pieces it will be made and supplied in. The installation may seem daunting, but it is pretty simple by following this quick guide.
How to install a Curved Architrave
See how the arch architrave mouldings were applied to this window arch.
@THREEBIRDSNOVATIONS  #HINTERLANDHIDEAWAY #MEDITERRANEANFARMHOUSE #THREEBIRDSPEPPEHART
Design Ideas
The Continuous arch
Select your architrave and keep the profile shape flowing seamlessly with no discernible joins. You can achieve this look with a number of different Colonial Architrave designs available here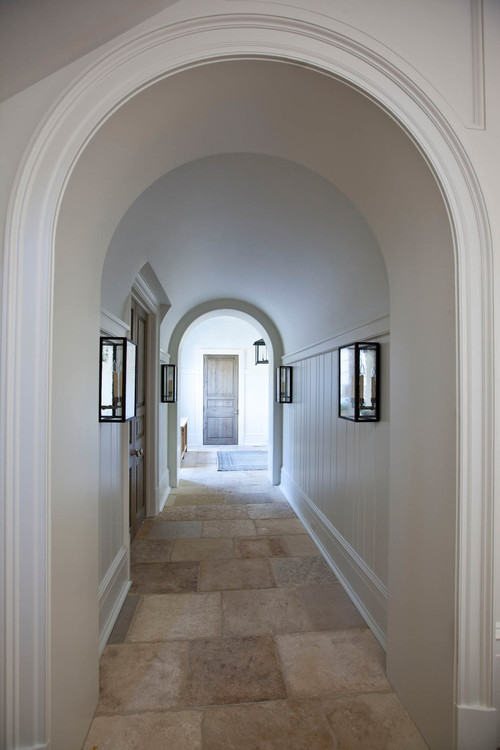 A traditional Arch with a column or plinth supporting the arch
This Georgian style dates back to the Roman and Greek influence on modern-day architectural designs we see in many of our current day Australian homes. The decorative columns may match the architraves or be a unique profile. The crown on top of the column marks the start of the arch where the arch mouldings begin.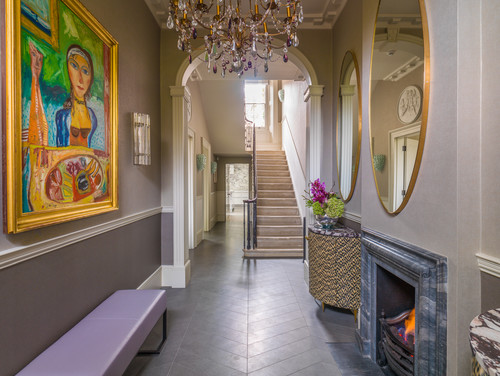 Mediterranean Farm House Hallway arches and arch mouldings
Arches are a huge architectural feature of this stunning Mediterranean inspired home in the hinterlands of Northern NSW. Arch architraves are a feature on the arch windows & doorways, while hallway arches and circle windows were plaster set, and decorative painting is a nod to the design influence.
@THREEBIRDSNOVATIONS  #HINTERLANDHIDEAWAY #MEDITERRANEANFARMHOUSE #THREEBIRDSPEPPEHART
The naked arch
So it's not really called this. But as it doesn't have an architrave moulding to finish it off, we call it naked. This modern minimalistic look provides a clean no-fuss finish. You can always add decorative timber architrave arch mouldings later if you wish or leave it as is. Either way, it still provides a soft, inviting entrance to the next room.
@THREEBIRDSNOVATIONS #CONTEMPORARYCOTTAGE #HOUSE12