17th January 2022
Top 10 Skirting Boards for 2022
We're back again with our top 10 skirting board profiles for 2022 to keep you inspired for the year ahead. Spending as much time at home as we have over the past two years has made us notice the finer details in our interiors and the huge impact they have on how a room feels. It really is the finishing details such as timber skirting boards, architraves, decorative inlay mould, wainscoting and VJ Paneling that make such a huge impact on a space and tie a room together. They turn a house into a home and a bland commercial space into a desirable place to be. It comes as no surprise that when pulling together this year's top 10 that we see a continuation of Hamptons and Modern Contemporary styling, as well as a resurgence of French Provincial styling as decorative mouldings with large curves and fine detailed finishes continue to grow in popularity. So take a look at the top 10 popular profiles that will help inspire you on your 2022 interior and style journey. Starting with the number 1 skirting board profile for 2022…
When Bonnie from Three Birds Renovations created her dream home a few years ago she started with the Cottage where she used this SK58 profile in 230mm skirting boards and 115mm architrave. A consistent best-seller for its all-round Hamptons styling, it blends beautifully with a slightly more modern approach.
You can see the impact this moulding makes in Bonnie's Cottage here.
Available in 90mm, 115mm, 135mm wide, 185mm, 230mm and 285mm wide x 18mm thick
2:  SK800 Shadowline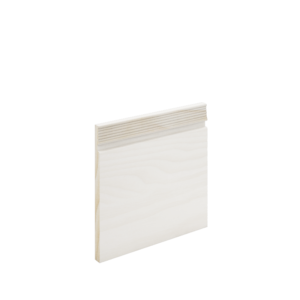 The SK800 Shadowline System is perfect for modern contemporary styled homes which desire a minimalist sleek touch. This modern look skirting provides a neat finish to the base of plasterboard walls. Skirting 'steps back' from plasterboard surface creating a distinct shadowline finish. The Shadowline system allows you to create gorgeous, modern interiors with slim, seamless finishes around walls and doors.
Intrim Shadowline System door jambs are available to suit 70mm and 90mm stud widths and available in 30mm and 40mm thicknesses. Shadowline Skirting Board is available to suit 10mm and 13mm plasterboard thickness. Check out the different options here.
Build & Design: Ultimate Doors & Joinery |  Style: Modern Contemporary
Check out more of this particular project here.
The SK498 skirting profile was used by Three Birds Renovations in House 11 Colour Me Hamptons, lending character and the perfect amount of detailing. If there is one thing  you should never forget when adding detailing to your home, it's skirting boards. SK498 is a skirting board with just the right amount of curves and details, making it one of our must have Hamptons profiles.
Build & Design: Three Birds Renovations |  Style: Hamptons 
See more of this Three Birds project here. 

SK497 is another profile that is popular with Three Birds who used it when renovating their office. With its dramatic dips and curves this is a profile which can suit many different styles from Hamptons to French Provincial or even Modern Contemporary/Art Deco.
SK399 boasts a shadowline look detail making it modern, clean and classic. The perfect profile to use in a Modern Contemporary or Art Deco styled home.
Build & Design: Binet Homes |  Style: Modern Contemporary 
SK23 is another versatile profile with its big round curve and simple design which can pair well with a relaxed coastal, beachy style or a more elegant and sophisticated Edwardian/Georgian style. Three Birds used this profile in House 10 Hinterland Hideaway where the curved features of the SK23 profile helped create that Mediterranean flavour as well as aid the minimalist style that features throughout the home.
Build & Design: Three Birds Renovations |  Style: Coastal/Edwardian Georgian 
This profile it the perfect pick if you're going for a Hamptons or Country Cottage style in your home. The beautiful detailing and curves are elegant and balanced and can even work in a Colonial or Victorian styled space.
Another Hamptons profile that is very popular is the SK945B profile with it's smooth and classic shape making it an all round favourite. Available in 90mm, 115mm, 135mm, 185mm, 230mm, 285mm high and 18mm thick.
Another Hamptons style choice where the true highlight of this profile is the chunky, thick curves. Available in 66mm, 90mm, 115mm, 135mm wide, 185mm, 230mm and 285mm wide x 18mm thick.
This Hamptons style profile continues to be very popular with home builders looking to create a spectacular Hamptons inspired home. Available in 90mm, 115mm, 135mm wide, 185mm, 230mm and 285mm wide x 18mm thick.
Build & Design: Whitey's Construction |  Style: Colonial, Victorian or Hamptons 
If you didn't see the look you were after in our top 10 skirtings for 2022, it's simple to browse the style you like here or look through our gallery here for more inspiration. We help you confirm your selection with Free samples available to order for most of our popular profiles from the profile product page. We love making spectacular interiors and hope to be part of your interior project for 2022.
If you'd like to see more skirting inspiration check out last years Top 10 Skirting Board Profiles for 2021 here.